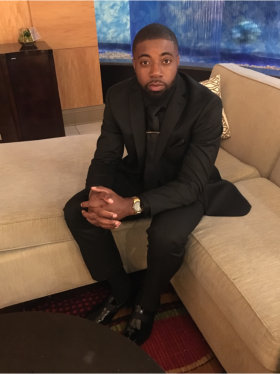 Meet Nathaniel L. Carter Jr- Owner & Founder
Nathaniel L. Carter Jr was born the third child of both biological parents September 9th, 1988. From the very beginning his life would reflect his ability to adapt and prevail. After being displaced by CYS, from his biological mother due to addiction, he was raised in the Foster system for two years by a loving and caring family, an African American mother and Caucasian father prior to full custody acquired by biological father and his wife (mom). This not only gave him the opportunity to experience a consistent environment of love but also a nurturing family. Nathaniel attended Woodland Hills School District, where he graduated June of 2006. Though he was recruited to Waynesburg University for basketball, his passion to serve others overshadowed his desire to continue playing. Because of His passion, he quit basketball his freshmen year to pursue a Bonner Scholar scholarship, a national philanthropic organization program. The scholarship required 140 hours of community service per semester and two summers of 280 hours, while maintaining a minimum GPA of 3.0. He was awarded the scholarship April 27, 2007. During his time as a student at Waynesburg, he ran a community soup kitchen and helped with an after school program and in Philadelphia, he served with the Center for Student Missions. He also had affiliations in Jackson, Mississippi where he aided community's projects with the John Perkins foundation and by airways to the Navajo Nation in Tuba City, Arizona. He was also actively involved with the International Association of Lions Club, Senior Philanthropy Program, AmeriCorps Program and many others. In 2010, he became the 1st of 13th siblings to receive a bachelor's degree, graduating with a B.A. degree in Sociology with a focus in Human Development and a minor in Biblical Studies, from Waynesburg University.
In 2010, his life changed quickly as he became the father of his beautiful, talented and extraordinary daughter Niara Carter. He also began his career at Small Seed Development, a non-profit focused towards African American families. As he worked in many positions at the agency; including a mentor to families in the Mother to Son program, he also became an owner, purchasing his first home which functions as a facility to TGC currently in 2011. In 2012, he transitioned to Family Resources as a Credential Joint Planning Team Facilitator for two years. In 2014, He accepted the Director of Operation position at RMPC Habilitative Services. However, after being laid off in 2015 for almost an entire year, he was diligent to the formation of This Generation Cares, LLC which was incorporated May 8th, 2015. While desperately searching for employment opportunities the entire year, surviving off of unemployment wages which eventually ran out, he landed a position with Justice Related Services (JRS) as State Support Specialist October 2015. There he provided services to individuals with mental health involved in the State Correctional System and State Parole.
May 2, 2016 This Generation Cares, LLC received their first residential individual. Nathaniel was challenged to work two full time jobs both with JRS and TGC, as TGC was getting off it's feet while still rebounding from a year with little income and maintaining his responsibilities. While TGC demands grew, he was challenged with tough decisions. August 8, 2016, he jumped by faith, resigned from his full time position at JRS and decided to work for TGC full-time. Nathaniel worked for TGC for a full year without receiving a salary however believed and had faith in the vision.
Nathaniel is actively involved within his community. He has established collaborative such as Recovery Impact Initiative (RII). He is a board member of North Braddock Cares Organization (Non-Profit). He is also the Treasurer and Board Member of The Housing and Education Resource Programs, Inc (HER). He also recently had the opportunity to travel to East Africa, as apart of the Bridge of Hope Global travel team. Currently, he is active at Barrett Elementary School as an mentor and after school mentor. He is currently enrolled at Pittsburgh Theological Seminary. He continues to facilitate forums from seminars to family and team meetings on various topics such as goal setting, success, anger, forgiveness and self-esteem/self-worth.
Nathaniel desires is to serve This Generation Well!